Megatrends for the coming years
An introduction and overview of the megatrend selection.
Megatrends are omnipresent and are considered key drivers of change. They can be seen in all sectors and influence our daily lives.
According to the German Future Institute, three conditions must be met for a trend to earn the distinction of being a megatrend:
Minimum half-life of 25 to 30 years
Exerts influence at all levels: economy, politics, science, technology and culture
Fundamentally global in character, even if not uniformly evident everywhere
Since a certain growth expectation is priced in, keeping an eye on valuations, quality and general market trends is even more important than usual when it comes to megatrends. Our task is to ascertain a megatrend's individual potential and select the most attractive ones. We also consider it important to have a sufficiently long investment horizon as the true growth potential can only be fully realised in the long term. Short-term fluctuations are therefore buying opportunities.
Investment options
From an investor's point of view, investing in future-oriented structural growth trends is a sensible move. With high growth potential and favourable financing conditions, innovative companies can rapidly develop their potential even further. Thanks to above-average growth, these companies can achieve what are currently high valuations and ultimately outperform the market in the long term. A second important point in their favour is that the very nature of these trends is disruptive and can thus offer diversification within the equity component.
The Reichmuth & Co megatrend selection currently covers eight megatrends. Since choosing the eventual winner from the respective trends is difficult as of right now, taking a diversified approach is crucial. Whether you choose to invest in the megatrend via several individual shares or via a fund or ETF is a question of individual preference and is best discussed with your client relationship manager, who will assist you in finding the right solution and investment for your portfolio.
People who invest in megatrends are generally positioning themselves with a long-term outlook. We have selected eight megatrends that we consider to be particularly attractive. The key deciding factors for our selection are:
Ongoing stages of development
Growth potential
Disruption potential
We are pleased to introduce you to our eight megatrends.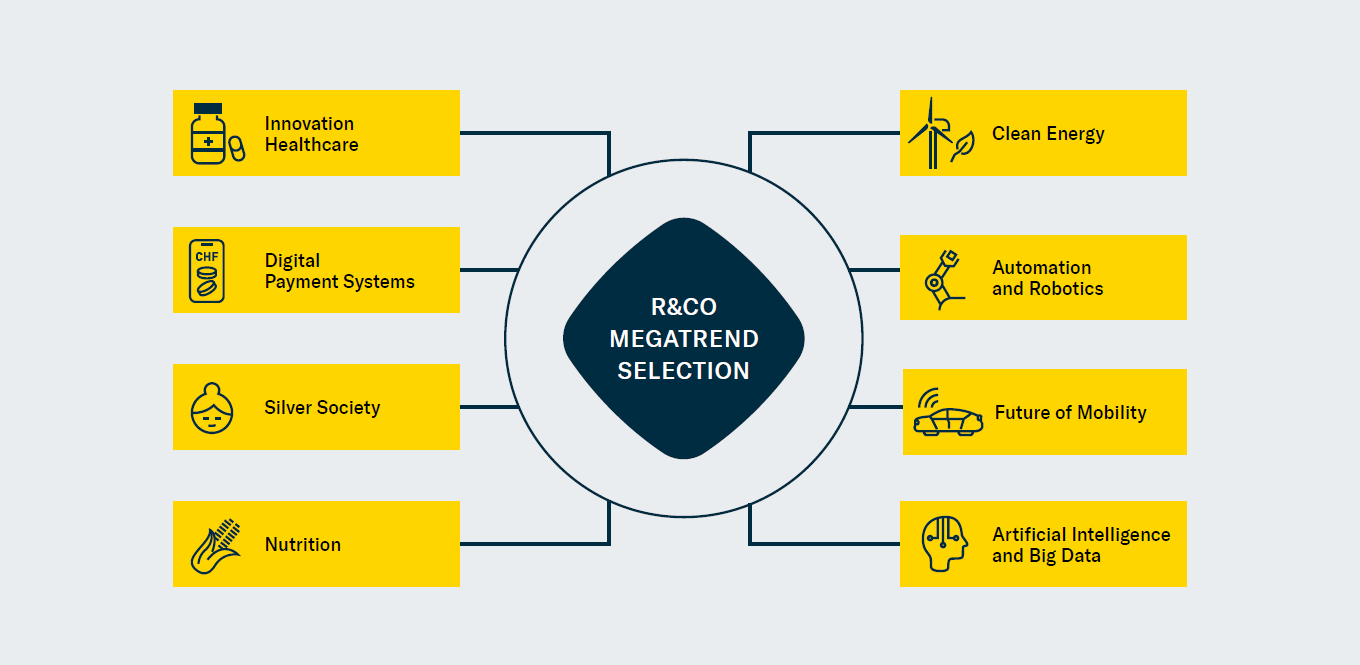 Healthcare Innovation
Novel diseases, longer lifespans and increased health awareness are driving forward the development of new innovative therapies and medications. The exchange of information and new technologies are also accelerating growth. This megatrend is one of the oldest trends and will continue to be a central theme.
Clean Energy
Clean energy as part of the "Green Revolution" refers to all sustainable forms of energy. This megatrend is currently gaining a strong tailwind thanks to developments in the political arena, such as the European "Green Deal" and US President-elect Joe Biden's promise to bring about real change in this area.
Automation and Robotics
This impact of this megatrend on the manufacturing sector in particular is significant and growing. With the help of standardised process steps carried out by machines, more products can be manufactured at a lower cost and consistent quality. Production efficiency is becoming increasingly important in the global competition for market share.
Future of Mobility
The future of mobility provides a great deal of potential for disruption. Instead of being restricted to the electric motor alone, the future is in fact much broader. Sharing rather than owning a vehicle, autonomous driving, and alternative drive technologies such as hydrogen all constitute fertile ground for a sustainable transformation of this sector.
Artificial Intelligence and Big Data
One of the most important driving forces of digitalisation is the use of artificial intelligence and the processing of enormous amounts of data. This megatrend is transforming our lives in a fundamental manner and influencing our behaviour in lasting ways. The beneficiaries of this trend are software developers and the producers of chips and performance-enhancing hardware.
Nutrition
Food culture is a reflection of society. Consumers want healthier and more sustainable nutrition. However, consumption is just one part of this transformation. Both production and distribution must adapt to meet consumers' wishes. This trend offers opportunities for the entire food industry.
Silver Society
The world's population is growing and becoming older. People are living longer and remaining more active, with the focus after retirement now on personal development. This megatrend includes companies that concentrate not only on age-related diseases but also on lifestyle, housing, mobility and education sectors.
Digital Payment Systems
Cash is on the decline. Innovative fintech companies are creating new ecosystems with digital payment systems that can accommodate many new services. Powerful platforms can emerge from these systems, generating high customer value, lowering costs, and ensuring long-term customer loyalty.
If you are interested in specific investment recommendations for one or more megatrends, please feel free to contact your client relationship manager or write us a message.